Why Enable Patients to More Easily Make Payments?
An aspect that is often overlooked is the "user-friendliness" of the invoicing process for hospital medical billing. When there is a system in place that makes it difficult for patients to understand how they are being charged, what they are being charged for, and how to pay towards their balance, the system needs to be reevaluated. This leads to having to invest more resources into bad debt recovery efforts.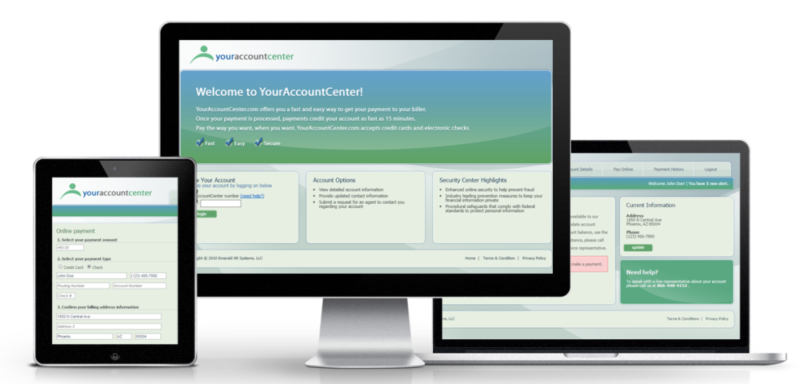 Emerald AR Systems are designed for easy implementation and zero capital expense for huge infrastructure gains. Emerald's patient billing services are designed for easy implementation and their system is constructed to allows clients to not have to worry about the planning, development, and capital costs associated with improving their patient billing capabilities and processes.
By improving your hospital office's ability to collect patient payments, you coincidently increase your overall patient satisfaction. Giving them the capability and convenience of providing multiple payment channels will assist in ensuring that they have access to their delivery method of choice. Our multi-channel payment architecture includes credit cards, debit cards, and electronic check payments.
Emerald provides a single file to import credit card payments, lockbox payments, web payments, and phone payments. Our patient payment suite provides fully reconciled payment files posted in a fraction of the time and expense of operating your own lockbox or manual posting process.
Clearer and Easier Medical Billing Benefits Your Hospital
Patient payments are a vital part of revenue cycle management, but when patients fail to take financial responsibility, hospitals take a hard hit. Since 2000, U.S. hospitals have provided more than $502 billion in uncompensated care expenses, according to a report by the American Hospital Association.
This issue of uncompensated care expenses is the primary reasoning why Emerald looks to make medical billing more clear for patients to understand and easier to payoff balances. We provide statements that are broken down and can be easily comprehended. By ensuring that these statements are written in clear language, we are able to reduce the confusing healthcare language and verbiage.
Patients are able to very quickly understand what the they are being charged for with an itemized list clearly outlining what is owed. By laying out the necessary details in the statement, the patient is able to better identify issues that need to be addressed before their balance can go unaccounted for and turn into a bad debt recovery issue. Along with a clearer hospital medical billing statement, Emerald also assists patient in the process by offering a variety of options to view and pay their bill.
We Offer a Customer Service Focused Call Center
A study of nearly 35,000 online reviews of medical billing office's nationwide has found that customer service is patients' chief frustration, not physicians' medical expertise and clinical skill.
As an extension of your hospital, we equip you with a customer service staff. This customer service call center is staffed with highly trained agents who act as the voice of your medical billing and service collections department. It is their duty to create a positive experience for your patients when they have any questions or issues with their hospital billing.
The entire customer service staff is located here in the US. They are also capable of handling calls for both English and Spanish speaking patients. They will look to follow the guidelines that you have outlined related to your respective medical billing policies. We record all calls for you as well as review them to ensure that our agents provide exceptional customer service.
How We Lower Your Call Volume
Answer general billing questions

Update information (Personal & Insurance)

Set up payment arrangements

Process payments

Inform patients on financial policies (Outlined by you)
How Does Voice Messaging for Unpaid Bills Work?
Calling a patient to remind them about an unpaid bill is still a very effective service collections process as well as a proper bad debt recovery method. As that volume of unpaid accounts continues to grow, the task of calling and leaving messages can be a daunting task. Emerald utilizes dialing technology to follow-up with payment reminders for unpaid patient accounts by eliminating the manual effort and expenses normally associated with voice messaging.
The statistics have shown that hospitals without dialing technology and the ability to utilize voice messaging for unpaid medical billing suffer in their collections efforts dramatically. Although, technology alone does not fully address the scheduling and enforcement rules for account eligibility. Emerald understands this and identifies when to call the appropriate accounts at the defined times.
Benefits of Voice Messaging
The benefits of voice messaging ensure that calls will be delivered in accordance with your predefined schedule to relieve your staff of these operational burdens. Keep in mind, we will only be sending out voice messaging on appropriately aged accounts that are in the bad debt recovery stage.
Call routing capabilities for patients wishing to transfer from a dialer message

Text-to-speech engine that delivers messages with the patient's name and account number

Toll-free or local area code numbers are available for Caller ID

Creating custom scheduling logic

Increasing communication with patients

Reducing the cost and time to manually call patient accounts

Answering machine or live person detection capabilities
Taking Advantage of Post-Visit Medicaid Eligibility
Post-visit Medicaid eligibility is a fail-safe process that is often overlooked by other hospital medical billing systems. By identifying individual accounts that may be recovered through Medicaid, Emerald is able to return the billing details for processing and reduce your uncompensated care expenses.
It is critical to remember that it is illegal to bill patients as a Medicaid provider in many states for medical treatment covered by Medicaid. This is why our system looks to keep your hospital medical billing compliant while efficiently maximizing the recovery of these uncompensated care expenses by locating patients eligible for Medicaid within the timely limits of filing.
Do You Know How much Medicaid Money You're Losing?
For one FQHC client, Emerald AR found over $250k in unbilled Medicaid and that was only in the first 90 days.
Find out how much Medicaid money your hospital is missing out on. Click the button below for a Free Medicaid Eligibility Scan!